How to Get Out of The Negative Cycle of Over-Indulging & Punishing?
I used to associate enjoying food with intensive workout and/or restrictions. It was as if I was trying to punish myself for having had a second piece of cake, a pizza, or one too many cookies in one setting. Have you ever found yourself in this situation? I call this behavior "the cycle of over-indulging and punishing".
What was triggering this behavior?
When I look back at it, I now realize that my diet was not satisfying me and that my emotions seemed to be ruling my choices! In fact there are 3 concrete points that turned out to be important!
Let's start with number 1:
1. I was eating the same food over and over.
Cooking and eating the same food saves a lot of time and creates a lot of brain space! Someone who lives alone might find it more convenient to cook a dish in larger quantities that will last for several days. Parents with fussy children will go for what they know will please their little ones! Those are valid 'excuses'. However …
Here is why it important to correct this monotony in your diet! Varying your diet prevents you from becoming frustrated. Eating quinoa, carrots and broccoli from Monday to Friday will likely lead you to over indulge on the weekend and rightly so! Moreover, this doesn't contribute to your physical and mental health which will be lacking in some essential nutrients.
What can you do to stop the cycle of over-indulging and punishing?
Vary your diet and make sure you don't eat the same thing more than twice in a row!
Here is how you can start doing that:
a. Create a weekly menu with at least 3 different meals spread out over the course of the week.
Example: a lentil & tofu curry on Monday and Tuesday; a vegetable stir fried & quinoa on Wednesday and Thursday; some butternut lasagna on Friday and Saturday, etc.
b. Get yourself some Tupperwares! This will allow you to keep the leftovers in the freezer instead of feeling obligated to eat the same thing the next day.
c. Search the internet for healthy and tasty meal ideas and create a "meal idea" folder on Pinterest for inspiration or visit www.mimiesdelicacies.com.
2. If it's repetitive and boring it will be hard to stick to!
It doesn't matter how healthy your diet is, if it's repetitive and boring it will be hard to stick to! Many of my clients assume that if they 'behave' well during the week then they can let themselves go at the weekend.
Eating all the food at the weekend will ruin all your efforts, no matter how well you ate during the week! Moreover, if your food is not satisfying in terms of taste, it will create a sense of frustration that will not help you achieve your goal.
What solution should you put in place?
Make sure your diet is both healthy AND tasty throughout the week, whether it's Monday, Thursday or Saturday.
Don't eat salads from Monfay to Thursday so that you can indulge in a pizza on Friday. Unless you really like the salad, don't do it to make up for the extra calories.
By eating balanced meals that you truly enjoy you'll feel good and won't be feeling frustrated. What's more, on the day of the pizza you'll be able to enjoy it, not crave it, and will know to stop when your body tells you that you're full.
3. People often associate the idea of indulging with the idea of damaging their health.
People often associate the idea of indulging with the idea of damaging their health. It is as if indulging was limited to eating foods with poor nutritional qualities.
Is indulging in food we love necessarily bad for our health? I believe that we first need to get away from what is sold to us in the dieting world and learn to adopt new eating habits that benefit both our mental and physical health.
What food comes first when you think of treating yourself?
E.g. Lasagna? No problem, let's add a homemade tomato sauce, some courgettes cooked in extra-virgin olive oil, a few basil leaves and why not replacing the lasagna sheets with a few slices of aubergine covered with bechamel? You'll be amazed!
Fancy some pancakes? Replace the wheat flour with rice flour and chickpea flour which is rich in proteins, subsititue the white sugar with a mashed banana and top it with your favourite fruits. There is no shortage of ideas!
Taking care of your health and trying to lose weight isn't about depriving yourself, quite the opposite! In fact, I'm convinced that it is possible to treat yourself while taking care of your health. What's the point of having a 'perfect' body if you are left feeling miserable?
My mission?
I'm on a mission to nourish both your body & your mind. Showing you how to create the healthy version of your favourite dishes and desserts. A sweet potato & date brownie will taste delicious while giving you loads of fibres and vitamins. It's a win-win situation!
Feeling great right from the beginning so that you can work towards your goal feeling calm and confident.
Because doing things that feel good to you should become a daily activity, it is through healthy and tasty meals that I invite you to make peace with your body, to feel good and feel free to be YOU! Exploring and trying new ways of cooking and baking.
Book your FREE consultation and learn how to get out of the negative cycle of over-indulging and punishing.
We'll get to know each other and see how I can help you look & feel your most vibrant self.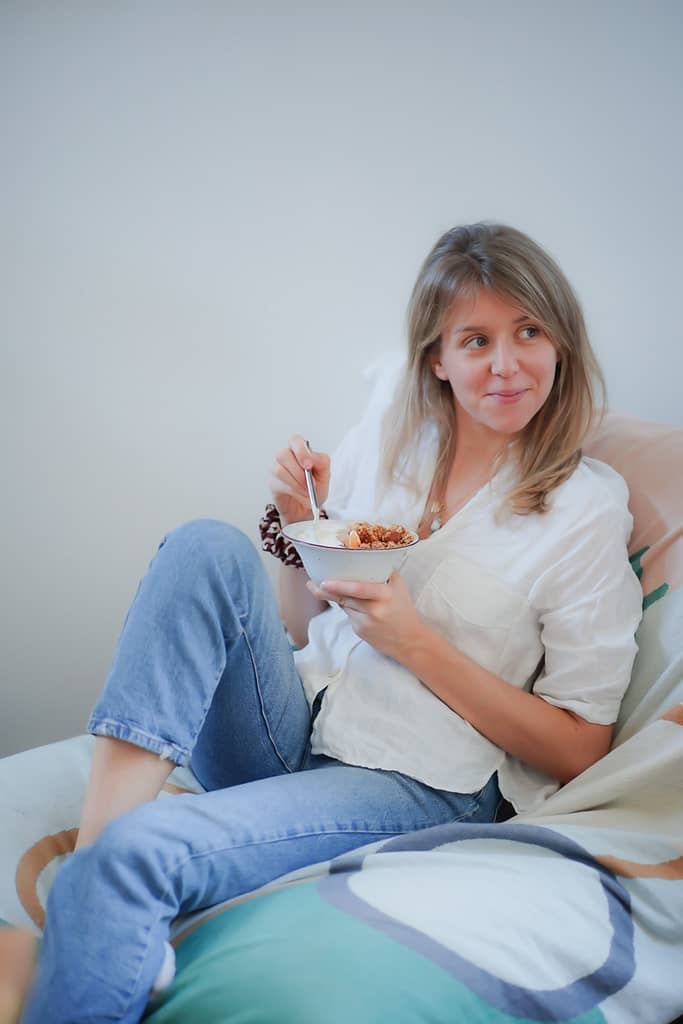 Love,
Mimie, x